Cloud Computing Adoption Will Accelerate
We're not going out on a limb in predicting cloud services will continue to grow. The information technology world is experiencing a tectonic shift, led by the rapid adoption of cloud computing. *Gartner predicts that the market size of the cloud services industry will grow three times faster than overall IT services growth, reaching $331.2 billion by 2022, with SaaS applications accounting for $143.7 billion, or 43% of this market.
Cloud services allow businesses to operate at breathtaking speed, to tailor applications to meet their needs, to gather once unthought-of amounts of data, and to drastically improve access and workflows. The ability to do more, better and faster, with consumption-based pricing, is a business owner's dream come true.
Societal behaviors demanding more data, accessible anytime, from anywhere, by any means, will continue to drive faster and less restrictive internet presence, mobile device usage, adoption of cloud computing and shift to Business-managed IT.
The Perfect Storm
Even though cloud computing is providing amazing benefits to businesses worldwide, users still demand that access and data be secure. The sheer volume of websites, SaaS applications and the presence of web access in everyday devices will continue to cause major security concerns for organizations of all sizes and in all sectors.
A perfect storm has been forming and will continue to get larger in 2020 and may overwhelm many businesses. Rapid cloud adoption, coupled with the growing cybersecurity skills shortage, the dissolution of traditional network boundaries, expanding attack targets and growing regulatory demands will drive the realization that legacy or on-premise technology and techniques that have been used in the past can't adequately secure today's business environments and personal information.
Breakneck movement to the cloud will further expand attack vectors for malicious hackers, for example the recent Capital One, DoorDash, Facebook and Adobe breaches.
SecureSky's Top 5 2020 Predictions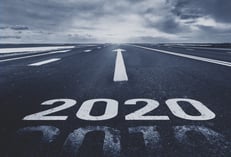 1. In 2019, 86% of SecureSky Cyber Threat Center incidents in 2019 involved the most dangerous form of Business Email Compromise (BEC), Account Takeover (ATO) attack or tenant compromises. Even with the rapid adoption of MFA, we will see an increase in ATO attacks. Using this vector, cybercriminals gain unauthorized access to a victim's account (such as cloud and application administrators or key business personnel) to conduct fraudulent transactions or to use as a launching point for additional attacks.
2. Organized crime and state-sponsored attacks will continue to increase in volume and sophistication, doubling losses and creating economic and political disruption for the next several years.
3. We will continue to see user apathy in not changing behaviors, even after reported data breaches, until they are properly trained or become a victim. Businesses will come to understand that to advance their business, they must drive a cultural change by educating users in guarding their credentials and controlling data access, which hold the key to user contacts, private and sensitive company and personal information.
4. As IaaS, PaaS and SaaS providers develop new solutions to meet the demands of users, they will prioritize innovation, access, speed and functionality over security. This prioritization and conflict between "data freedom" and security will continue to enable cybercriminals to expand their organizations and disrupt every aspect of our lives. Society and businesses will force cloud providers to be more accountable and improve could-native security features and measures.
5. The **U.S. federal government will become more aggressive in unifying legislation for data privacy. Instead of fighting data privacy regulations, multiple U.S. state and international mandates, large businesses will begin to endorse such legislation, allowing the U.S. to one-up foreign mandates like GDPR and federalize the growing number of state driven laws like California Privacy Law (CCPA)
In 2020 and beyond, SecureSky will continue to focus on solving the issues business are facing, as they move more critical infrastructure and applications into the cloud.
*Gartner Forecast: Public Cloud Services, Worldwide, 2016-2022, 4Q18 Update.
**DIGIDAY -Circling closer to a federal privacy law, Congress has introduced 7 privacy bills this year
** https://www.wyden.senate.gov/news/press-releases/wyden-introduces-comprehensive-bill-to-secure-americans-personal-information-and-hold-corporations-accountable